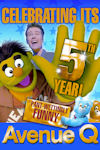 Avenue Q
Wyndham's Theatre
Avenue Q er South Park og Muppet Show sat op som musical. Avenue Q The Musical spiller på Noel Coward Theatre i London, og er bare en vild morsom musical!

Siden premieren, har Avenue Q udviklet sig til en ren kultmusical, og spillet for et uhyre entusiastisk publikum i London, der hver aften har givet stående ovationer. Avenue Q er stærkt vanedannende, og masser af fans vender tilbage for at se det igen og igen!

Avenue Q The Musical foregår i en mytisk boligblok i New York, der er beboet af en samling "kære" særlinge; skøre Christmas Eve og hendes ulykkelige mand Brian samt marionetterne: sjuskede Nicky, indesluttede Rod, den fortabte sjæl Princeton, elskovssyge Kate, pornobesatte Trekkie Monster og bimboagtige Lucy The Slut! De bander som sømænd, deltager i kinky og sexede dukke "shows" LIVE, og giver til og med værdifuld og/eller absurd livsvisdom fra sig.

Det ville være forkert at kalde Avenue Q et dukkeshow. South Park, Sesame Street eller Muppet Show for voksne er heller ikke helt rigtigt. Der er faktisk ingen let måde at beskrive Avenue Q på, andet end at det er det mest lodne og sjoveste shows, du nogensinde vil få at se.

Avenue Q indeholder scener, der kan være uegnet for børn under 12 år. Børn under 5 år har ikke adgang. En ting er dog sikker, hvis du er en voksen, med en god humoristisk sans(måske lidt til en side) er Avenue Q lige noget for dig! Vi har sjælent grint så meget, da vi herinde så den første gang.
Avenue Q Reviews
"Brash, vulgar, sometimes downright obscene, I loved every minute of it"
Sunday Times
---
"An outrageously funny musical for the iPod generation. Cross Sesame Street with the Muppet Show give it an X rating and slap on a Government Health Warning that too much laughter can make your sides ache and you've got Avenue Q, A MUST SEE"
Radio 2
---
Avenue Q Pressemeddelelse
"The best musical of the decade" - Christopher Hart, Sunday Times. After a hugely successful run at the Gielgud, the eternally popular musical Avenue Q will move to the Wyndham's (almost back to where it ...
Læs mere