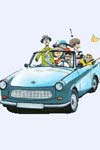 Trabi Safari Berlin
Pris fra 398 kr
Explore Berlin from a Trabant on one of our Trabi Safari Tours! We offer three Berlin Trabi Tours: The Wall Ride, City West or Wild East Tour.

Highlights:
- Explore Berlin from a Trabant
- Choose between three different routes
- Select the Trabi of your dreams from over 100 cars
- Drive along where The Berlin Wall used to be or
- Admire the highlights of West Berlin or
- Experience the wild East and venture off the beaten path
- Enjoy the audio guide over the radio in your Trabi
- Bring your children under age 15 for free

The Wall Ride:
Drive along the locations where The Berlin Wall divided Berlin in two and also see the famous places where Berlin got unified in 1989. Steer your vehicle along the relicts of Marxism and Leninism to the East Side Gallery (a 1-2 km long piece of the Berlin Wall). Here we'll make a stop to get some tea with bread and salt (very Eastgerman). Explore the death strip and pass the rigorous document inspection at Checkpoint Charlie as in "the good old days", just as it has happened as a part of everyday live in the divided city.

Route: See a map of the tour here
Length: The Wall Ride is a 2.15-hour tour
Tour start: 1 PM
Included: Visa, care package, original piece of the Berlin Wall

The City West Ride:
The City West Berlin Trabi Safari is the tour for you who like to get a balanced information mix of Berlin and see Berlin's classic sights. This tour takes you to such highlights such as Potsdamer Platz, KaDeWe, Straße des 17. Juni, Brandenburger Tor, Unter den Linden, and Checkpoint Charlie.

Route: See a map of the tour here
Length: The City West Ride is a 1.15-hour tour
Tour start: 10 AM, 11:30 AM, 3:30 PM & 5 PM.

The Wild East Ride:
This Wild East Ride is for those of you who like to venture off the beaten (tourist) path. Here you will get some insider knowledge of the city, not all knows. Most of this tour is through the former east part of Berlin and includes highlights such as Checkpoint Charlie, TV Tower, Alexanderplatz, Unter den Linden, Brandenburger Tor, Holocaust Memorial and Postdamer Platz.

Route: See a map of the tour here
Length: The Wild East Ride is a 1.15-hour tour
Tour start: 10 AM, 11:30 AM, 3:30 PM & 5 PM.

All tours are operated in English.

How do I get my tickets?
Shortly after your booking is complete your e-ticket will be sent directly to your email, just print it out and bring it you to Trabi World.

Where does the tour start?
All Berlin Trabi Safari Tours starts and ends at Trabi Safari/Trabi World. The exact address is on your e-ticket.

How many does a Trabi fit?
A Trabant fits four people. So are you 2-4 people you will get 1 Trabi. If you are more than four people you will get two Trabis and so on.

How does the pricing work?
Prices are per person - not per car.

Can I book a Trabi for one person?
No, you must be minimum 2 people when booking any Trabi Safari Tours. You cannot book for just for 1 person.

Do I need an international drivers license?
No, you do not need an international driver license, your national driver license is fine.

What if I don't have a drivers license?
As all the Trabi Safari Tours is self-drive tours, one of you needs to have a valid driver license, as one of you most likely will drive the car! If none of you can drive a car, you cannot book these tours!

What if two people want to drive?
If more than one of you like to drive the Trabant, please bring valid driver licenses for all drivers who'd like to drive. You will only be allowed to drive if you have a valid driver license to show at the beginning of the tour.

Is insurance included?
The price includes full insurance, with a EUR 300,- deductible self-coverage if an accident happens and it is you, as the driver's, fault.

What language is the audio guide in?
The audio guide over the radio in the Trabi is in English.

Are there children's tickets?
Children under age 15 are free when accompanied by a paying adult.

Fantastisk
5.0
3 kundekommentarer
Super god oplevelse
Alt fungerede upåklageligt både med booking, betaling og modtagelse på stedet. Vi havde en rigtig sød guide, som sørgede for, at vi følte os godt tilpas. Vi var på den tur, der tager 2 timer og fik et stykke af Berlin, som man nok ikke selv ville have opsøgt. Herlig tur :)
Et tur tilbage til østblok tiden
At tage en Trabi safari må være et "must" på alles dagsorden, hvis man vælger at besøge Berlin. Det er super morsomt, og der bliver taget godt om én af guidebilen, så man føler sig i trygge hænder. Vi valgte en en-times tur, og det var passende; bilen kører ikke ligefrem strålende, så man skal koncentrere sig en del - men det tog vi som en del af oplevelsen! Endelig kan det nævnes, at det bringer smil - og ikke mindst kameraerne - frem, hos dem man passerer på ruten! Varm anbefaling herfra!
Har nu for 2. gang prøvet en sightseeing tur rundt i Berlin i en 'konvoj' af Trabanter, og det er stadig lige skægt og informativt.
En Trabi Safari er en vildt morsom måde at se Berlin på, også områder du normalt ikke ville se, og helt unikt for denne by, da jeg ikke tror at Trabant sightseeing safari findes i andre byer en Berlin. Kan klart anbefales!