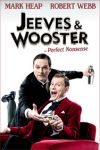 Jeeves and Wooster
Duke of York's Theatre
Pris fra 244 kr
Jeeves and Wooster is a brand new play and comedie. Join Stephen Mangan as the effervescent, aristocratic fool Bertie Wooster and Matthew Macfadyen as his dutiful valet Jeeves in the world premiere of this new stage play, featuring P.G. Wodehouse's iconic double act.

When a perfectly delightful trip to the countryside takes a turn for the worse, Bertie Wooster is unwittingly called on to play matchmaker – reconciling the affections of his host's drippy daughter Madeline Bassett with his newt-fancying acquaintance Gussie Fink-Nottle. If Bertie, ably assisted by the ever-dependable Jeeves, can't pull off the wedding of the season, he'll be forced to abandon his cherished bachelor status and marry the ghastly girl himself!
Fantastisk
5.0
2 kundekommentarer
Fænomenalt
Fantastisk spillet af de tre skuespillere og scenografien helt i top!
den sjoveste forestilling jeg har set!
Klassisk engelsk stykke om den lidt begavede rigmand der roder sig ud i problemer, imens hans butler reder dagen. Matthew macfadyen er perfekt til rollen som butler, og diverse andre roller, herunder flere damer, og det gælder om at få et sæde så tæt på scenen som muligt, så man kan se alle de fantastiske ansigtsudtryk som han bruger til at give et perfekt finish på replikkerne!
Jeeves and Wooster Reviews
"An inventive evening of bonkers comedy"
Daily Mail
---
"A too-rare 22-carat demonstration of silliness as one of the great English virtues"
Financial Times
---
"Macfadyen is excellent as the discreetly competent Jeeves"
Evening Standard
---