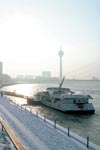 Advent cruises in Düsseldorf
Pris fra 79 kr
Enjoy advent cruise in Düsseldorf! You can choose between a 1-hour panorama cruise, an 2-hour Christmas cruise or the 3-hour romantic evening cruise with a delicious buffet and various drinks included.

Take in the beautiful the view over the Old Town and experience pre-Christmas Düsseldorf from the most attractive angle on board our comfortable vessel MS Warsteiner. All three tours are spiced with atmospheric music and festive specialities from the kitchen!
Panorama Cruises (1 hour)

Enjoy the cosy and romantic atmosphere while watching the wintry panorama of Düsseldorf pass by outside.
Fri – Sun: 12 AM and 2 PM
Afternoon Cruises (2 hours)

With music and romantic Christmas spirit – divine pleasure at this special time of year.
Fri – Sun: 3.30 PM

Romantic Evening Cruises all-inclusive (3 hours)
A festive and romantic atmosphere including a wintry speciality buffet, drinks (beer, wines and soft drinks) and music against the backdrop of Düsseldorf's panorama.
Fri + Sat: 8 PM

Important Information:
- Your booking is on request, meaning it will take up to 48 hours to get it confrimed.
- If your booking is confirmed you will receive a confirmation e-mail where your e-ticket is attached as a PDF document, which you need to print and bring a copy with you to Düsseldorf
- If your booking is sold out, we will send immidiatly send you a mail and send you alternative dates and times.
- All guiding on the cruise will be in German.