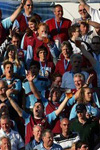 West Ham United - Crystal Palace
TIR, 30 JAN 2018 eller TOR, 01 FEB 2018, Olympic Stadium
Pris fra 691 kr
Info
* The final match date and kick-off time is confirmed 5-30 days prior to the match day. If in doubt please check the official club website. Changes within the date frame are beyond our control and we ask that you are aware of this when making your travel plans!
* You will NEVER get any single seats. You will always get seats next to your friends, right in front or right behind your friends. This is our guarantee from us to you!
* You will always be seated among home supporters or in a neutral zone.
* When you have completed your booking a booking confirmation/receipt and your e-tickets will be send to your e-mail address immediately.
* All information regarding collection or delivery of your original match tickets will be clearly stated on your e-ticket.
* We highly recommend that you carefully read our terms and conditions for booking football tickets!

Below you can read more about the seating and categories available for this football match.
Kategori
SOUTH STAND:
-Vores billetter er altid på South Stand.
-Billetterne vil nomalt være til blok 224/225, men i sjældne tilfældeer dette ikke muligt. Man vil i disse tilfælde få billetter placeret i en anden blok på South Stand.
-Med vores billetter har du adgang til barer, hvor du kan købe mad og drikkevarer.
-Billetterne er blandt hjemmeholdets tilhængere, derfor må du IKKE bærer tøj i udeholdets farver, eller bærer udeholdets tørklæder, trøjer etc.
-Børn og familier er velkommen.
Overstået kampe
West Ham United vs Crystal Palace, LØR, 14 JAN 2017
West Ham United vs Crystal Palace, LØR, 02 APR 2016
West Ham United vs Crystal Palace, LØR, 28 FEB 2015
West Ham United vs Crystal Palace, LØR, 19 APR 2014
West Ham United vs Crystal Palace, LØR, 25 FEB 2012